Powder Coater's Corner
Powder Coater's Corner
You don't have to be the world's best powder coater to understand how to effectively use our products…
You can effectively use our products best in powder coat clears, because they are effect pigment powders, and are best when used in a base coat-clear coat scenario. The mixture of our pearls in colored powders is not recommended, since pearls may be drowned by the colors, but HAS BEEN SUCCESSFULLY sprayed with favorable results.
Since pearls are so versatile, you can achieve rich to subtle accents by adjusting the amount in your mixture. We recommend using 1 bag of our pearl in 1 to 5 lbs. of clear powder. You will have a very strong effect when using in 1lb. of powder, but a very faint pearl effect in a 5 lb. mixture.
REMEMBER, almost ALL OF OUR PRODUCTS WILL WORK WELL IN POWDER COATINGS!
Give us a try and you won't go back…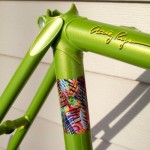 The Need for Paint is Shrinking…
As powder coatings increase in quality and versatility, many good powder coatings actually rival the look of custom paint!
Using our products, you can acheive this look in your powder coatings and bring your work to a new level!
Comments are closed