Pearl Leather Paint on Shoes and Other Leathers
Pearl Leather Paint
Many people are discovering the amazing diversity of our pearls. A new fad that seems to be taking hold is the use of pearls in leather paint on shoes and other leather items, such as jackets and purses. We have done a few experiments with our candies, pearls, and even thermochromic pigments and have found that they can be used in MULTIPLE ways on leather.
We at Paint With Pearl appreciate all of our customers who take the time to send us pictures and feedback on all of our products. Our Candy Pearls ®, Metal Flakes, True Chameleon pigments, Thermochromics, Glow In The Darks and all other paint pigments are truly custom paints and can be used in almost any application. There are so many options with our products! Photos, Videos and testimonials are a great way to show off the capabilities of our additives. If you find the opportunity, send us some great pics and a small testimonial about what you did with our products and we will send you a gift card for the website. We love to show off the work that our wonderful customers are doing. Contact us and send us your work!
Above: Leather Sneakers with ThermoChromic effects.
Our Pigments can be used in both leather paints and even in clear shoe polishes. One woman painted her shoes with polyurethane from Home Depot mixed into some Wine Red Candy Pearls ® and has been wearing the shoes for months. She claims to have had no issues. Patent Leather Pearl Effects can be achieved with an Epoxy coating mixed with pearls on leather. Pearl Leather Paint is a very hot item right now.
Leather Shoes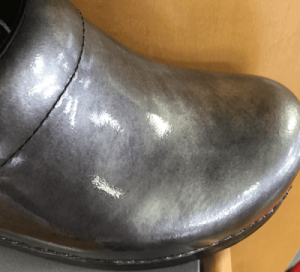 Comments are closed