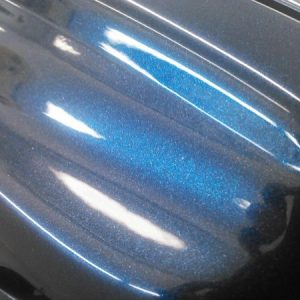 From:

$

14.99
Blue Crystal Ghost Pearl - 1600 Degree Temperature Threshold, Protects Base colors while adding incredible effect. Works in all clear coatings. 1 Bag Treats a gallon of ready to spray paint.
Select options
Ice Pearls Crystal ghost Pearls ®
Ice Pearls, or Crystal Effects ghost Pearls ® are a great way to add iridescent sparkle to your paint without completely covering up the base color. The larger particle size adds extra flash and is durable up to 1600ºF. So durable they can be used in everything from Pottery Glaze to auto paint and screen printing ink, along with theatrical makeup, nail polish, fiberglass, etc.  Not only can they create a sparkle over your existing paint, but they can also make their own color when sprayed over black base coats, as you can see in the picture below. Ice pearls have been popular for years, and are surprisingly easy to spray through paint guns and airbrushes. They can also create great special effects in nail polish, fiberglass, and powder coatings.  Do not be mistaken, these Ice Pearls are not metal flakes or glitter.  They are an abnormally large mica particle identical to our ghost Pearls ® in every way except for size.  Get a flashy custom paint job with our Ice Pearls Crystal Effects ghost Pearls ®, know also as iridescent or interference pearls.
Paint With Pearl is the original seller of pearl pigments on the Internet. We have been around since 2005, and have upheld an amazing reputation as far as customer satisfaction is concerned. You can always count on speedy shipping, great customer service, and when you call us, you will always talk to an owner of the company. Never any need to ask for a manager. We have been around for 10 years and are on our second web site. Check out our old site if you like.  Don't forget to check out our Youtube Channel.  As always we appreciate your business and thank you for shopping at Chameleon Pearls.